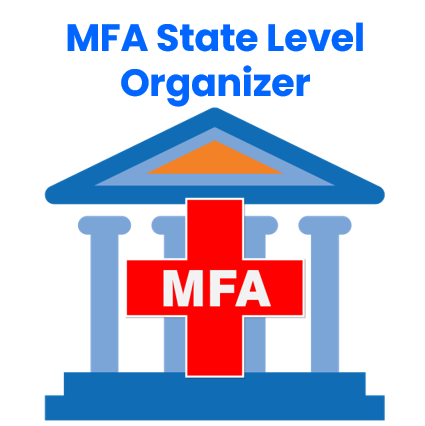 Overview
Medical Freedom Act is a de-centralized operation that has member organizations that operate as a federation.  MFA does not dictate daily state-level affairs.  MFA believes that Organizers in each state are the best to run their own medical freedom campaigns.  This makes the medical freedom mission more resilient since it is not a top-down management structure.  But, each state does require State Level Organizers that act as facilitators and coordinators for organizations at the State level.
Duties
Engages in actions which support the Medical Freedom Act mission.
Organizes a large number of volunteers by inspiring people through knowledge, passion, and hard work.
Makes new organizations at the State and local levels.
Connects state level organizations electronically and through real world events.
Works with other Organizers to develop state-level political strategies.
Actively recruits Organizers and Members into the MFA mission.
Advertises state-wide to grow membership for state Organizations.
Gets involved in State level political activism groups to make MFA known in political circles.
Recruits volunteers into the MFA volunteer pipeline.
Develops Standard Operating Procedures (SOPs) when necessary.
Works with MFA Founders to make strategic level changes to the MFA mission.
Works with other State Level Organizers as a team.
Required
The time, energy, and desire to motivate others to fight for medical freedom legislation.
Skillsets Desired
Experience with working large scale projects is desired.
Ability to motivate large numbers of people using either face-to-face interactions or online interactions.
Has written Standard Operating Procedures.
Is familiar with government in general, the process of law-making, and local state level politics.
Familiar with laws governing activism (e.g. getting permits for protests and rallies).
Has familiarity with tax requirements (if you run a 501c3 or 501c4 organization).
Fundraising experience.
Advertising experience.
Social media experience.
Politically connected.
Strong writing skills;  excellent written communicator.
Public speaking is nice to have but most interactions are done on a one-by-one basis.
Computer literacy.
Note:  Anyone can be a state level organizer.  The biggest requirement is the personality trait of having the strong desire to get medical freedom.  A well motivated volunteer is significantly more effective than someone with impressive credentials (although having both is obviously a winning combination).  We are not doing anything that is so complex or technical that you can't learn things on your own.  
Volunteer